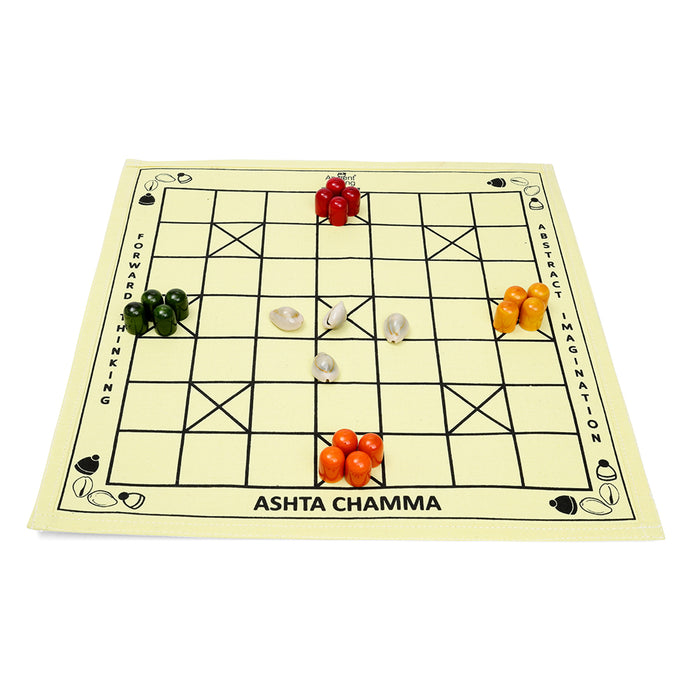 Ancient Living Ashta Chamma Native game - 1 Pcs
Original price
Rs. 750.00
-
Original price
Rs. 750.00
AshtaChamma / Chowka Bara / Katta Mane / Ludo board game (Crafted in Cotton Fabric with Corrugated Box)
Have you ever wondered how kings used to draw out war strategies? Does it fascinate you how something as humongous as a war can be planned and won within the four walls of a room? Well, we have great news for you! We bring to you Ashta Chamma which will open the door to learning these strategies. Also known as Chowka Bhara, this game is one of the oldest Indian board games and resembles our modern-day's ludo.
This game involves the player moving all pawns to the center square and this can be done using cowrie shells, making it a game of race and chance. So, be on your marks, everybody! The player can decide which coin to move, making it an excellent choice to improve your strategic and numerical abilities. Dice can be used to play this game but we provide you with cowrie shells because we want to keep its ancient tradition intact.
This 5×5 square board has the ability to attract all the generations of a household to indulge in its magnificence. This family game can be easily carried to any family outing, picnic, or vacation to amuse yourselves while involving your entire family.
Our aim is to bring people back to their roots and traditions and what is a better way to do this than a fun-filled Ashta Chamma board game? This game helps to inculcate the habit of healthy competition right from childhood. Its rules and regulations run beyond its boundaries. Its strategies, tactics, planning, and numerical abilities teach you how to face difficult situations in life or come up with logical and rational plans in grave situations, just the way it was used in ancient times. It'll make you sharper and just about ready to deal with any situation that comes knocking at your door!
AshtaChamma 
This traditional and antique version of Luda is played by up to four players and is appropriate for any age above five years. A game of chase and chance involves maneuvering the counters assigned to you to its fastest trip to the home square. Authentically played using cowrie shells instead of dice, this is a healthy competition and strategically designed game for the mind.
Dimensions: 36×36 cm