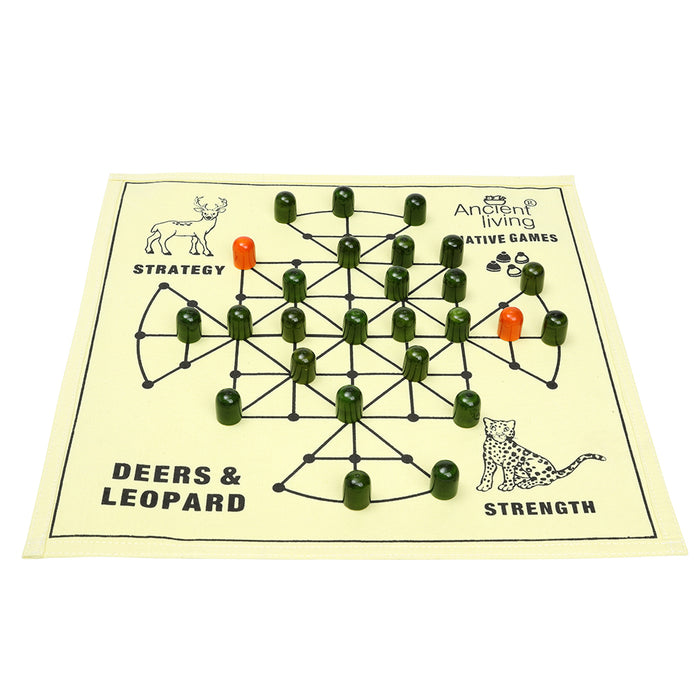 Ancient Living Deer's & Leopard's Board Game
Original price
Rs. 900.00
-
Original price
Rs. 900.00
Ancient Living Deers & Leopards board game is a game of supremacy and strength. It takes you on a virtual hunt while you sit in the comfort of your living room. This hunt between the leopards and the deer is played by 2 people. One player controls 2 leopards while the other manages 24 deer. The leopards aim to hunt the deer while the deer try to immobilize the leopards.
Strategy and logic are the aces of this game as you need to place your pawns accordingly to be victorious. The thrill keeps you on your toes! One wrong step and your pawns will end up getting killed in this fierce hunt!
This game goes beyond fun and thrill and gives you a new perspective and a new skill set to use in your life. It teaches you to face your fears head-on just the way the deer face the threat of the leopards. It teaches you the concept of teamwork and that anything can be achieved if you are united! Even the weakest of the weak can win over the strongest by using the right strategy. So, hold your breath and let this royal hunt begin!
This ancient game is native to our country. This game aims to keep us grounded in our roots and let future generations understand and enjoy the history of our country through these games. It is not only entertaining but also inculcates the habit of healthy competition among children. It helps in creating meaningful bonding sessions with others which are full of fun!