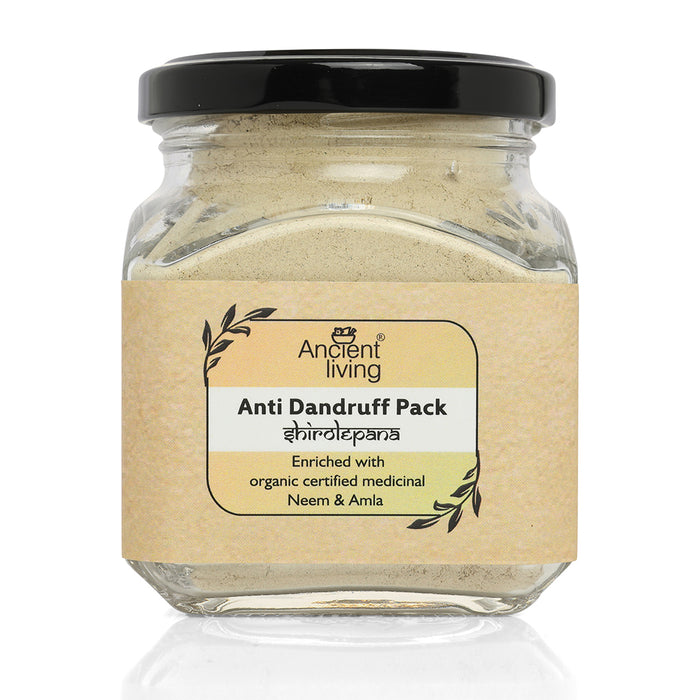 Ancient Living Anti Dandruff Pack - Jar - 100 gm
Original price
Rs. 445.00
-
Original price
Rs. 445.00
Ancient Living  Anti-Dandruff Pack contains herbs which provide the scalp with the nutrients it requires to see long-term changes in ones hair. anti-dandruff pack contains 7 potent herbs to help effectively fight dandruff.
Ingredients
Neem, Khas Khas, Hibiscus, Methi, Amla, Brahmi & Bhringraj
Benefits
Neem, the active ingredient in the pack is the Krimihara (anti-microbial) while Khus khus have Shodana or cleansing properties. Ayurveda describes Amla as an Amritphala (Fruit of Nectar), a highly nourishing and auspicious fruit. It contains high levels of Natural Vitamin C, making it the best choice to enrich your hair. Brahmi is an Adaptogenic Herb known to be a Nerve Tonic, Rejuvenator, & Stress Reducer. Hibiscus Flowers, also known as flowers of hair care, is rich in amino acids, making them an excellent choice for hair care. Bhringraj allows your roots to grow stronger, preventing hair fall. Methi, rich in proteins and provide protein for the hair.
How To Apply
Step 1. Mix the Anti-Dandruff Hair Pack with water or a cup of curd till you get a paste-like consistency. Step 2. Add a teaspoon of lemon juice to the paste. Step 3. Evenly apply this paste to your scalp and hair and leave it for at least an hour before you wash it off.