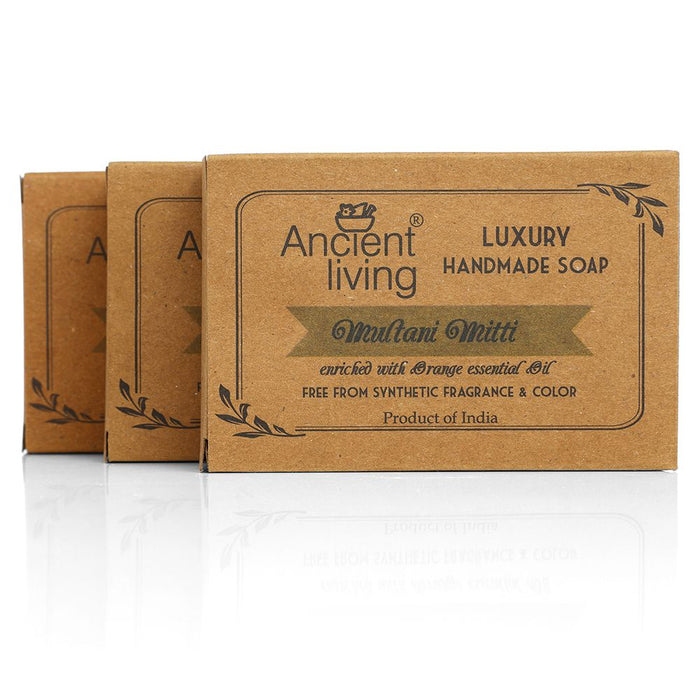 Ancient Living Multanimitti handmade soap - 100 gm
Original price
Rs. 125.00
-
Original price
Rs. 338.00
Ancient Living Multani Mitti Handmade soap is full of the softest and richest natural clay which is highly valued for its purifying qualities. This soap gets a citrusy twist with the inclusion of pure essential orange oil and other highly valued nutrient-rich oils. These soothe your skin and promote a glowing complexion.Orange oil It is rich in vitamin C which will keep your skin supple and moisturized.
Ingredients
Multani mitti, Orange essential oil, Palm oil, Coconut oil, and Lye
Benefits
Multani mitti benefits It cleanses and exfoliates your skin. It imparts a healthy glow and controls oil production. It controls acne and fades blemishes. It de-tans your skin and removes blackheads. It has excellent cooling properties that provide relief from the heat. Its antiseptic properties absorb dirt and infections and leave your skin feeling healthy and clean. Orange oil It is rich in vitamin C which will keep your skin supple and moisturized. Its antiseptic properties fight skin problems. Orange oil soothes your skin and uplifts your senses. Its sedative properties will help you get a good night's sleep. Coconut oil Our coconut oil is organic and certified. This age-old oil nourishes your skin and eliminates toxins. It acts as an exfoliator and removes dead skin cells. It combats dryness and moisturizes your skin. Palm oil benefits It is loaded with antioxidants and vitamin A which protects your skin from harmful UV rays while keeping the skin soft and non-greasy. MULTANI MITTI SOAP BENEFITS It is excellent for all skin types, especially for dry skin types. Nourishes and exfoliates your skin. Relieves stress and fatigue and uplifts your mood. Restores the suppleness of your skin. Removes impurities and reduces tan. It helps maintain a clear skin tone. Promotes a clear, glowing complexion. Its cooling properties provide relief from the heat.
How To Apply
Wet body and face, apply generously, and rinse.