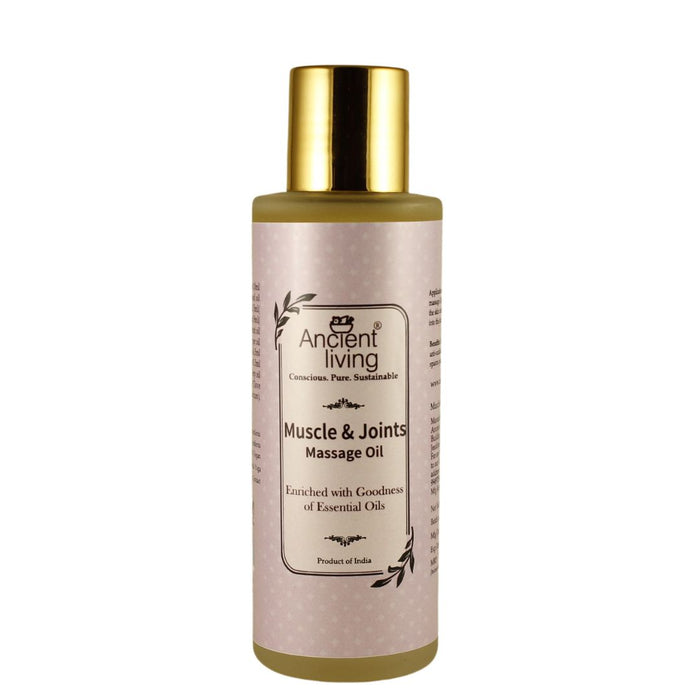 Ancient Living Muscle & Joint Massage Oil - Glass Bottle - 100 ml
Original price
Rs. 1,175.00
-
Original price
Rs. 1,175.00
Rs. 1,175.00
-
Rs. 1,175.00
Current price
Rs. 1,175.00
Ancient Living Organic Muscles & Joint Massage oil is a natural relaxer full of anti-spasmodic, anti-inflammatory and anti-oxidant properties that prevent swelling, relieves sore muscles and eases joint pains. Oil is specifically designed to relieve your muscular and joint pains. It is a blend of organic oils such as jojoba oil, rosemary oil, peppermint oil along with other mineral-rich oils. They are known for their pain-relieving properties.
Ingredients
Jojoba, Almond, Basil, Rosemary, Peppermint, Black pepper, Thyme, Ginger, Juniper Berry &Clove Bud.
Benefits
Our ingredients are handpicked and hold unique properties. Jojoba oil- It is cold-pressed and helps in the relaxation of your muscles and joints. Almond oil - Our cold-pressed almond oil keeps all its nutritional values intact and helps in moisturizing the skin and repairing tissues. Basil oil- It helps in reducing pains and cramps due to its carminative properties. Rosemary oil - It contains high levels of analgesic properties which support with aches and joint pains. Peppermint oil - It aids muscular aches and joint pains as it has a relaxing effect on your nerves. Black pepper oil - It is highly warming and circulation improves. It aids sore muscles and arthritis. It also helps with pre-exercise pain prevention and stiffness reduction. Thyme oil - Thyme helps treat joint and muscle pain with its warming action on the body. It helps with arthritis and rheumatism. It also lowers blood pressure while also increasing blood circulation. Ginger oil - It relieves aching muscles and eases muscle spasms due to its analgesic properties. These properties also help in soothing painful joints, muscles, and symptoms of arthritis. Juniper berry oil - It reduces stiffness in your muscles. It helps in easing pain due to its carminative properties. Clove bud oil - It provides relief from muscle pain, joint pain and soreness due to overexertion.
How To Apply
Massage with the oil gently on affected area