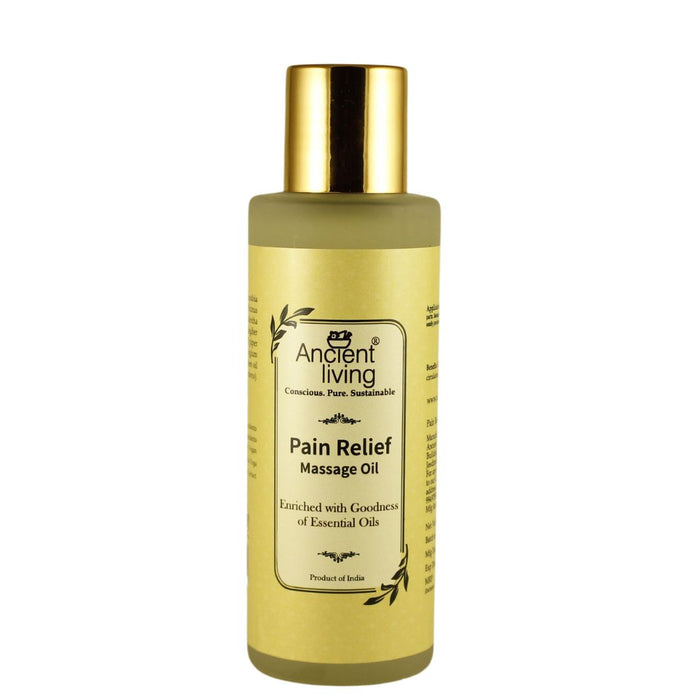 Ancient Living Pain Relief Oil - Glass Bottle - 100 ml
Original price
Rs. 1,045.00
-
Original price
Rs. 1,045.00
Rs. 1,045.00
-
Rs. 1,045.00
Current price
Rs. 1,045.00
Ancient Living Organic Pain Relief Massage oil is a natural relaxer full of anti-spasmodic, anti-inflammatory, and anti-oxidant properties that cures headaches, ease cramps, and relieves muscle soreness. It is the perfect solution to keep pain at bay as it relieves mild to moderate aches due to its action on your muscles
Ingredients
Jojoba, Almond, Peppermint, Wintergreen, Black Pepper, Ginger and Clove Bud.
Benefits
Our ingredients are handpicked and hold unique properties. Jojoba oil- It is cold-pressed and helps in the relaxation of your muscles and joints. Almond oil - Our cold-pressed almond oil keeps all its nutritional values intact and helps in moisturizing the skin and repairing tissues. Peppermint oil - It acts a natural painkiller. Its known for its cooling sensation. It has a calming effect as well as the ability to inhibit muscle contractions and reduce headaches. Black pepper oil - It is highly warming and circulation improves. It aids sore muscles and arthritis. It also helps with pre-exercise pain prevention and stiffness reduction. Ginger oil - It relieves aching muscles and eases muscle spasms due to its analgesic properties. These properties also help in soothing painful joints and muscles. Clove bud oil - It provides relief from muscle pain, joint pain and soreness due to overexertion. Wintergreen oil - Its astringent and anti-inflammatory properties help in relieving pain.
How To Apply
Apply Pain relief massage oil gently on affected parts.Massage the oil into the skin until fully absorbed.