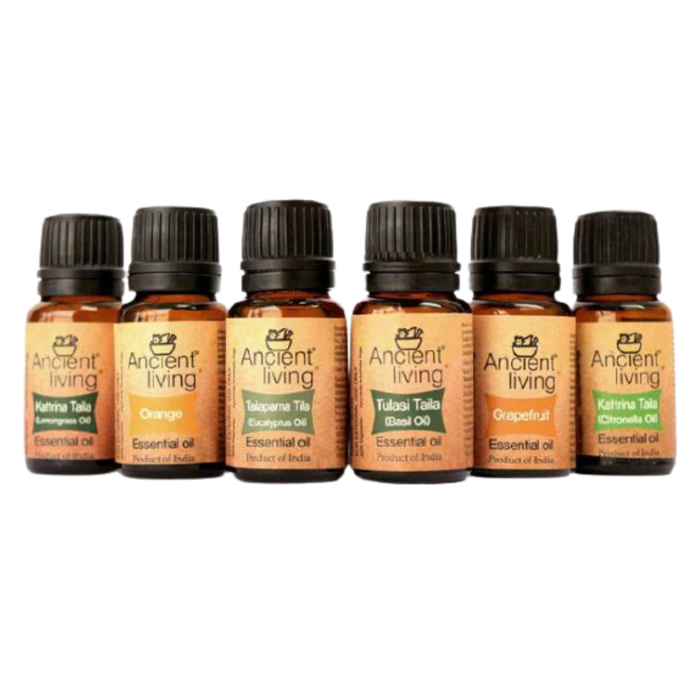 Ancient Living 6 Set Essential Oils - 10 ml each
Original price
Rs. 1,875.00
-
Original price
Rs. 1,875.00
Rs. 1,875.00
-
Rs. 1,875.00
Current price
Rs. 1,875.00
Ancient Living 6 Set Essential Oils - 10 ml each quantityBottom of Form
Organic Basil Essential Oil
Organic Citronella Essential Oil
Organic Eucalyptus Essential Oil
Organic Grapefruit Essential Oil
Organic Lemongrass Essential Oil
Organic Orange Essential Oil
ANCIENT LIVING BASIL ESSENTIAL OIL
Basil essential oil has a rich spicy aroma which is known for its strong anti-bacterial properties. When used as a massage oil it can give you clearer, glowing skin! When diffused at home it purifies the air by killing the germs. Thus, it keeps you away from infections, colds and coughs.
ANCIENT LIVING CITRONELLA ESSENTIAL OIL
Its citrusy fragrance helps wash away your blues and clears your mind when diffused at home or the workplace.When used as a bath oil it drives away fatigue and leaves you feeling fresh. A special benefit that is unique to this essential oil is that it acts as an excellent organic mosquito repellent when diffused.
ANCIENT LIVING EUCALYPTUS ESSENTIAL OIL
Organic eucalyptus oil benefit is that it reduces stress, and we all know the role stress plays in causing unexpected hair loss. Regular use of eucalyptus oil can not only reduce hair loss but also promote hair growth by nourishing the scalp with mixed of any carrier oil.
ANCIENT LIVING GRAPEFRUIT ESSENTIAL OIL
 This fruit was an accidentally cross between a sweet orange and pomelo and we are thankful for this serendipity. Being one of the seven wonders of Barbados it's signature sweet, citrusy aroma is invigorating. We bring to you this hybrid sweet scent hidden inside in a 10 ml bottle. It is packaged in a lovely cardboard box with the description of the product printed on it.
ANCIENT LIVING LEMON ESSENTIAL OIL
This citrusy charm has left its footprints all the way from India to America while parcelling out its medicinal benefits along the way. This 'liquid sunshine' is brought to you in a concise bottle. It is packaged in a beautiful cardboard box with the description of the product printed on it.
ANCIENT LIVING ORANGE ESSENTIAL OIL
The moment this orangy whirlwind enters your life it'll win you over with it's sweet, citrusy fragrance just the way it won over the hearts of the nobility in the ancient times. There was a fierce competition between cultivators to produce larger and tastier oranges in order to please them. We at Ancient Living win this competition by bringing you the best of oranges compressed in a lovely 10ml bottle.
Ingredients
Organic Basil Essential Oil Organic Citronella Essential Oil Organic Eucalyptus Essential Oil Organic Grapefruit Essential Oil Organic Lemongrass Essential Oil Organic Orange Essential Oil
Benefits
Basil Essential Oil Ancient Living Basil Essential Oil can help stimulate the mind and improves concentration. It is also said to help with a headache, bronchitis, rheumatism. Citronella Essential Oil Ancient Living Citronella Essential Oil helps to relieve cold, flu, chest congestion, and headache. The fresh Citrus aroma can lift the mood. Eucalyptus Essential Oil Ancient Living Eucalyptus Essential Oil helps bronchitis, cold sores, colds coughing, fever, flu, and sinusitis. Grapefruit Essential Oil Ancient Living Grapefruit Essential Oil is an antioxidant that protects from free radicals that causes tissue degeneration. This oil has anti-aging properties that reduce excess water, fats, sodium and other toxins. Lemongrass Essential Oil Ancient Living Lemongrass Essential Oil helps to reduce stress relieves jet lag. It relaxes muscles, reduces fatigue and energizes. Orange Essential Oil Ancient Living Orange Essential Oil is a anti-depressant,anti-inflammatory,anti-septic,anti-cancer and encourages detoxification.
How To Apply
Use in a Candle vaporizer or electric diffuser