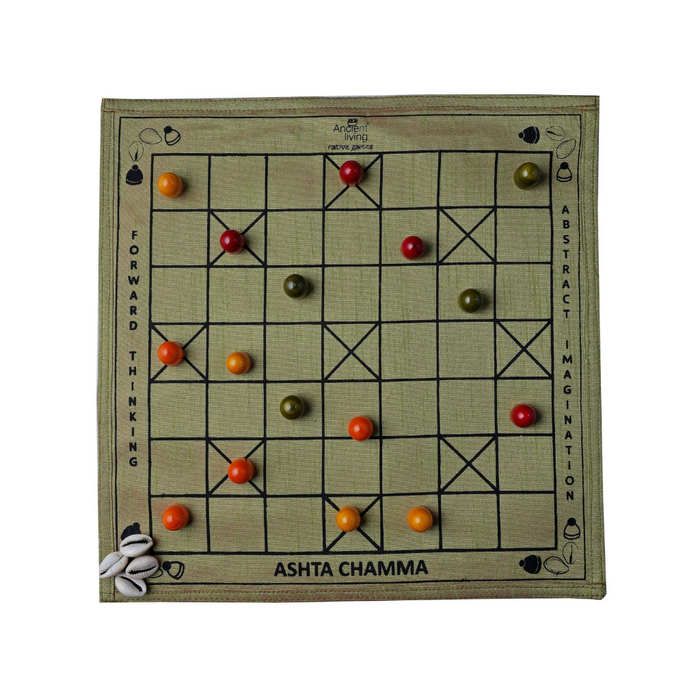 Ancient Living Ashta Chamma Game Cheriyal Print - 1 Pcs
Original price
Rs. 2,895.00
-
Original price
Rs. 2,895.00
Rs. 2,895.00
-
Rs. 2,895.00
Current price
Rs. 2,895.00
AshtaChamma / Chowka Bara / Katta Mane / Ludo board game (Crafted in raw Silk)

If you have spent your summer afternoons playing a round of Ashta Chamma with your grandmom – throwing shells across the board, and moving and retrieving your coins, you've got to spend the next few minutes planning to get this board to your home! Known with names like Chowka Bara (Kannada), Daaya (Tamil), and Ashta Chamma (Telugu), this board game is brought to you by Ancient Living, with the intention to promote folkloric games and culture through fun and entertainment.
Hand-stitched in raw silk to perfection, this Ashta Chamma board is set to give you a nostalgic ride! Crafted to be eco-friendly and pollution-free, this board game is woven with the finest fabric.
Crafted in Raw silk
The exotic and quintessential fabric of raw silk darts its origin way back to the Indus Valley Civilization. Its smooth and rich silk is non-slippery and the strongest of its kind. Reputed to be the finest and delicate form of fabric, it was the appealing choice of Ancient Living in the making of its most-loved games!
Hand-made Coins: The coins are made by the best of artisans using earth-friendly wood materials and natural color paint.
Fun in the Box: Packed in an Earth-Friendly Box for safekeeping and zero threat of damage.
 Ashta Chamma
This traditional and antique version of Luda is played by up to four players and is appropriate for any age above five years. A game of chase and chance involves maneuvering the counters assigned to you to its fastest trip to the home square. Authentically played using cowrie shells instead of dice, this is a healthy competition and strategically designed game for the mind.
Dimensions: 36×36 cm