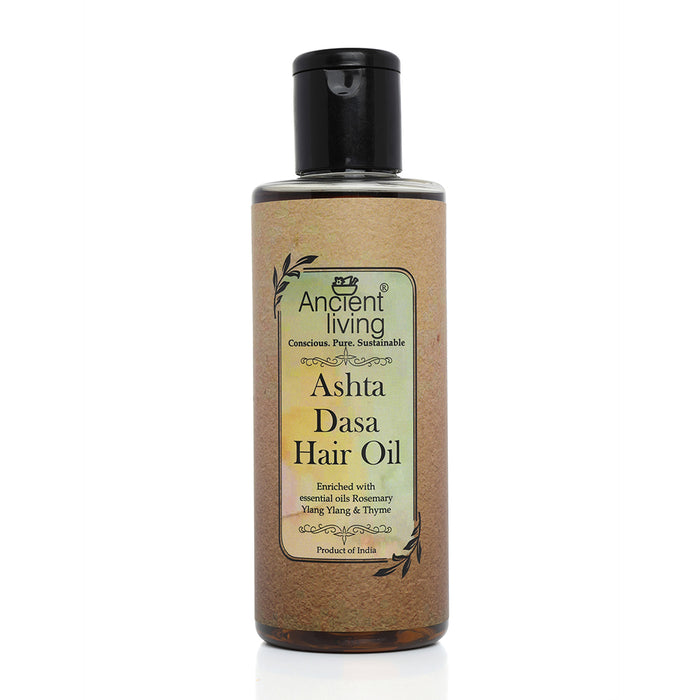 Ancient Living Ashta Dasha Hair Oil - 50 ml
Original price
Rs. 295.00
-
Original price
Rs. 295.00
Ancient Living Asta Dasa Hair Oil is a premium blend of eighteen most revered ayurvedic herbs which are known to make your hair healthy and strong. This hair oil's unique properties address different hair concerns. Hair oil is prepared in the Ayurvedic traditional method known as Taila Paka Vidhi which retains the nutritional value of the herbs.
Ingredients
Jatamansi,Yashtimadhu,Amalaki,Bhringraj,Brahmi,Neeli,Aloe Vera,Japapushpa, Madayantika,Methi,Surabhinimbu,Tulasi,Haritaki,Vibhitaki,Geranium oil,Rosemary oil,Thyme oil,Ylang Ylang oil &Coconut oil
Benefits
Himalayan Jatamansi is known to combat stress. Brahmi, the cerebral herb, recognised as a ""Medhya"" herb, has all round calming effects and encourages hair growth. Yashtimadhu prevents alopecia or hair fall. Amlaki, Haritaki and Vibhitaki also known as the triphala powder are rich in vitamin C which prevents premature greying. They fight dandruff and reduce hair fall. Japapushpa or Hibiscus is rich in amino acids that nourish your hair, strengthen your roots and keep your locks healthy and lustrous. Surabhinimbu is loaded with vitamin C that makes your hair strong and healthy. It promotes hair growth and adds life to your dull, frizzy hair. Tulasi treats dry and dandruff prone scalp. Mandukaparni prevents graying of hair. Madayantika, Bhringraj and Neeli preserve natural hair pigment and impart shine. Geranium oil promotes hair growth and nourishes your scalp. Coconut oil is the all in one solution for all the hair problems. It reduces hair fall and hair damage, it moisturizes and conditions, it promotes hair growth and makes your hair lustrous. Methi is a rich source of protein which strengthens your hair. Aloe vera is anti-inflammatory properties soothe and moisturize the scalp. Rosemary fights dandruff while Thyme has an overall balancing quality. Soothing Ylang ylang oil relaxes and uplifts. The deep penetrating action of these essential oils makes your hair shine with health. Regular massage with our Asta Dasa Hair Oil helps improve hair health and gives you better results.
How To Apply
Take a small quantity of the oil and apply it on your scalp and hair evenly.