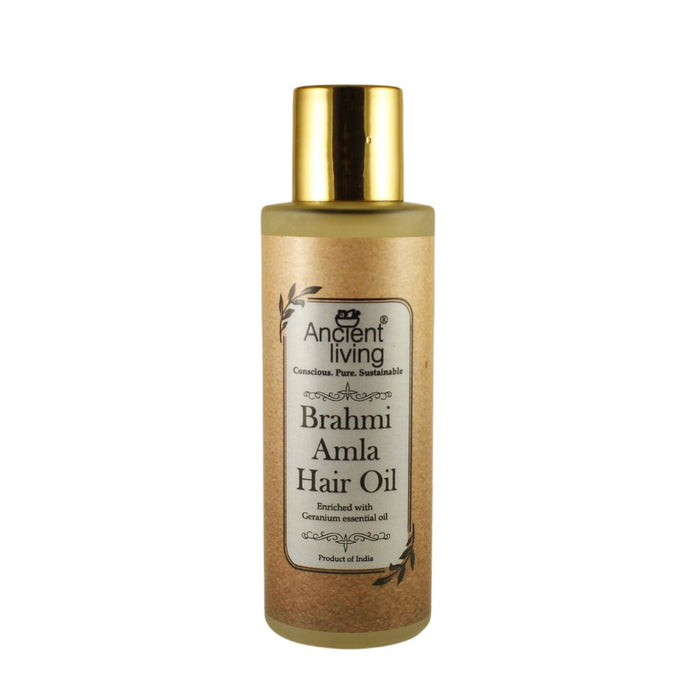 Ancient Living Brahmi & Amla Hair Oil - Glass Bottle - 100 ml
Original price
Rs. 305.00
-
Original price
Rs. 305.00
Ancient Living Brahmi and Amla Hair Oil is a natural hair nutritioner which infused with Brahmi, amla, geranium oil and coconut oil. This blend of ayurvedic herbs and nourishing oils fights scalp issues and restore your scalp health. They condition and nourish your tresses while adding shine and luster to them. Our oils are prepared using Taila Paka Vidhi which retains the nutritional value of the herbs.
Ingredients
Brahmi , Amla ,Geranium oil, Coconut Oil
Benefits
Brahmi It strengthens your hair. It fights scalp problems such as dandruff and itchiness. It prevents breakage and split ends. It reduces hair fall and alopecia or baldness. It nourishes your scalp and stimulates hair growth. It rejuvenates your scalp and relaxes your mind. Amla It is rich in vitamin C and fights dandruff. It cures hair loss. It stimulates hair growth due to its high iron content. It adds strength and luster to your hair. It conditions and moisturizes your stresses. It enhances the natural color of your hair. It treats dry, flaky and itchy scalp. Geranium oil It vitalizes the hair strands and makes them look healthy by balancing the oil production. It promotes hair growth by nourishing your scalp. It imparts shine along with a flowery aroma which refreshes your senses. It is full of amino acids which prevents hair loss. Its antiseptic properties treat scalp irritations. Coconut oil (Cold pressed) It stimulates hair growth. It restores scalp health by fighting against scalp problems such as dandruff and lice. It deeply moisturizes and conditions dry hair. It makes your hair soft and adds luster and shine. It prevents hair breakage and split ends. It reduces hair loss.
How To Apply
Take a small quantity of the oil and apply it on your scalp and hair evenly.