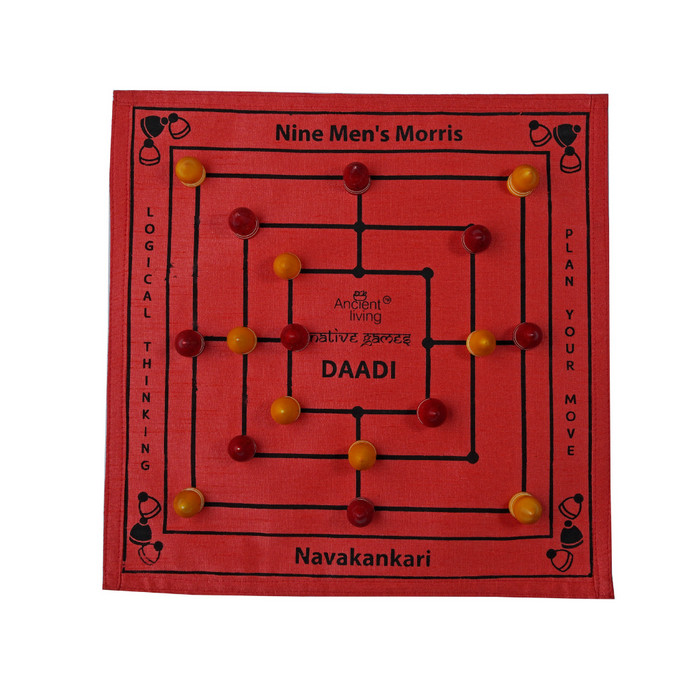 Ancient Living Raw Silk-DAADI in 500 Year Old Cheryl Hand Painted Box | Navakankari | Nine Men's Morris Board Game | Muhle and Daadi | Strategic | Mind Game | Traditional Indian Board Game
Original price
Rs. 2,895.00
-
Original price
Rs. 2,895.00
Rs. 2,895.00
-
Rs. 2,895.00
Current price
Rs. 2,895.00
Daadi/ Navakankari / Nine Men's Morris board game (Crafted in raw silk)
Ancient Living brings to you yet another folklore game, this time, Dadi -A board game that puts your skills in strategy and planning to test! Developed in a country of much diversity, this game is called Navakankari in Sanskrit and Nine Men's Morris Board in the western world. This eco-friendly board is hand-stitched and finished to perfection, letting you enjoy the game to its extreme best! Sewed in Raw silk and woven with the finest fabric, Dadi is the irresistible board game you've got to own in your gaming rooms.
Crafted in Raw silk

The exotic and quintessential fabric of raw silk darts its origin way back to the Indus Valley Civilization. Its smooth and rich silk is non-slippery and the strongest of its kind. Raw silk is reputed to be the finest and delicate form of fabric was the appealing choice of Ancient Living in the making of its most-loved games!
Hand-made Coins: The coins are made by the best of artisans using earth-friendly wood materials and natural color paint.
Fun in the Box: Packed in an Earth-Friendly Box for safekeeping and zero threat of damage.
Dadi
This strategy-alignment game that has been designed for children above five and adults is played by two players. Most of these games have their traces in different parts of the world. The primary aim of the game is to get as many points as possible by positioning three coins in a row.
Instructions
The two opposing players are given 9 coins each of two different colors. The players try to move them to get 3 coins in a row. Though, similar in movement to Noughts and Crosses, Dadi is far more complex than that in practicality.
The basic aim of a player is to make vertical or horizontal lines with three coins of one color. Every time this is achieved, one of the opponent's coins is removed. The ultimate objective is to bring the opponent's coins down to two, or to block all the opponent's moves, thus rendering the opponent unable to play. When that final block occurs, the person creating the block is declared the winner.
Dimensions: 36×36