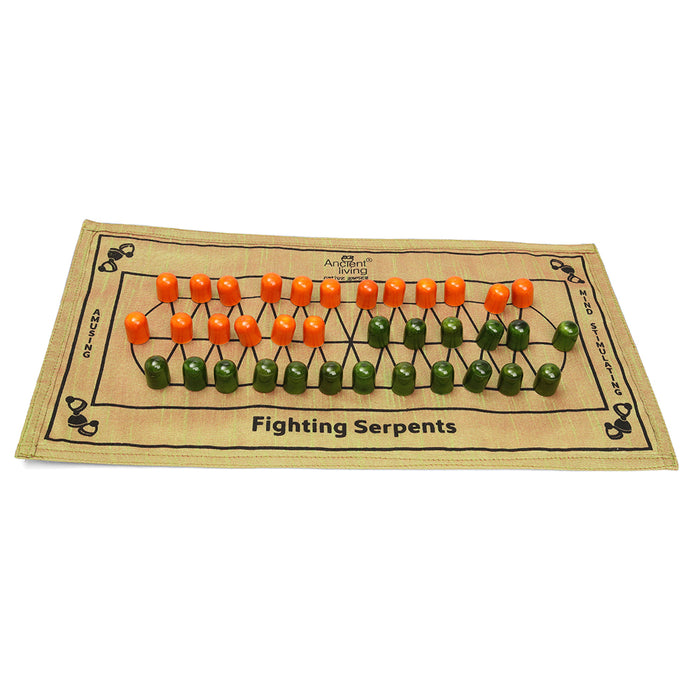 Ancient Living Fighting Serpents Strategy & Competitive Board Game - Crafted in Raw Silk
Original price
Rs. 1,889.00
-
Original price
Rs. 1,889.00
Rs. 1,889.00
-
Rs. 1,889.00
Current price
Rs. 1,889.00
(Crafted in raw Silk with Wooden Box)
Ancient Living Fighting Serpents game is also known as Kolowis Awithlaknannai is a two-player strategy board game invented by Native Indian Americans. This competitive board games pattern with its black and white coins laid on it looks like two serpents fighting.
Now popular all around the world this game improves brainpower by engaging the players in a fierce logical battle! It improves concentration and inculcates the habit of healthy competition in children starting at an early age. This highly mind-stimulating game urges the players to develop creative thinking and use imaginative abilities to win the game. It develops mental alertness as of one wrong step and leads to multiple sacrifices and paves the way to your defeat. It teaches you to face challenging situations in life. It makes you sharper and just about ready for anything that comes knocking at your door!
It is a great way to make parties interesting and entertaining. It is a quick fix to brighten up a boring day. Come indulge in this skillful game and create lasting memories!