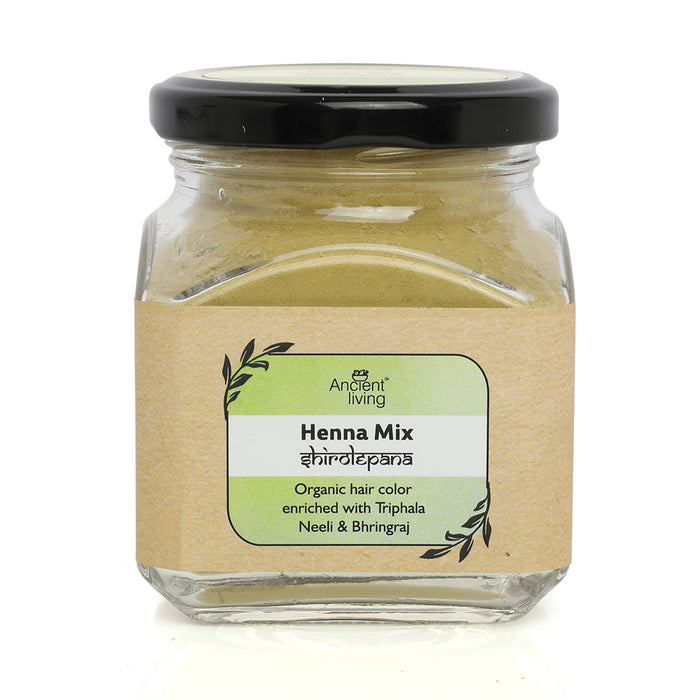 Ancient Living Henna Mix - Jar - 100 gm
Original price
Rs. 275.00
-
Original price
Rs. 275.00
Ancient Living's Henna mix is a plant-based hair color that gives natural  looks. They are a blend of 7 organic herbs which have been used for generations. They naturally color and nourish your hair. This mix is the secret to beautifully colored and nourished hair.
Ingredients
Henna ,Amalaki , Haritaki, Vibhitaki, Neeli , Bhringraj & Methi
Benefits
Bhringraj
- It has the natural ability to reduce graying of hair and helps in darkening of hair color.
Neeli
– It has been used as a dye for millennia and promotes hair growth.
Henna
- It has natural hair colorant properties that darken your hair color while cooling and soothing your scalp.
Methi
– It provides much needed proteins to your hair and it keeps it soft and shiny.
Triphala (3 fruits)
Amalaki, Bibhitaki and Haritaki are considered as a tridoshic rasayan which has balancing and rejuvenating effects on the three constitutional elements that govern human life namely- Vata (air and space), Pitta(fire and water) and Kapha (earth and water). Triphala has anti viral and anti bacterial properties which are very useful in treating hair loss problems.
How To Apply
Mix required quantity with water or a cup of curd and a teaspoon of lemon juice to make a paste. Apply to the scalp and hair evenly. Wait for one hour before washing.