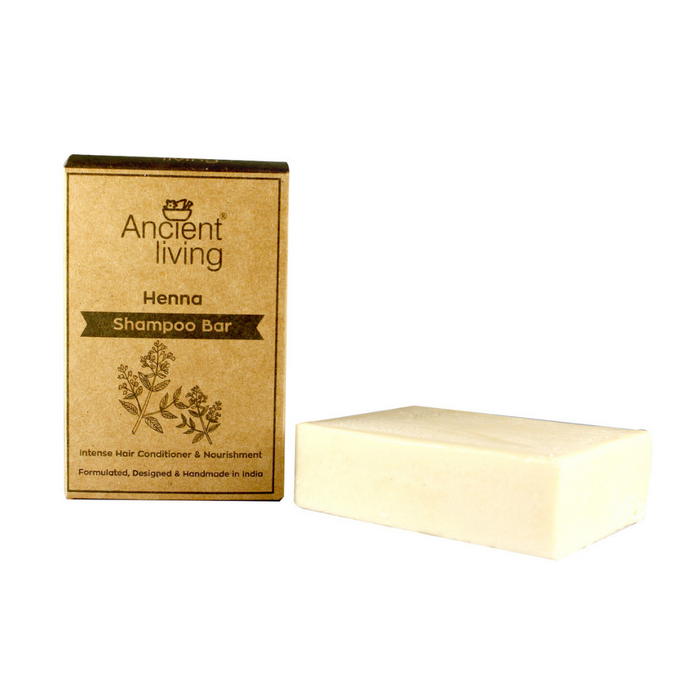 Ancient Living Henna Shampoo Bar - 100 gm
Original price
Rs. 225.00
-
Original price
Rs. 225.00
Ancient Living Henna Shampoo Bar gently cleanses impurities, promotes thicker hair and manages excess oil on the scalp. It is a storehouse of vitamins E, C and A along with other nourishing oils. Infused with henna it reduces hair fall and softens your hair. Lemon oil fights scalp infections and adds shine. It energizes and lifts off stress with its citrusy aroma.
Ingredients
Henna powder(Lawsonia Inermis),Lemon oil(Citrus limonum),Sunflower oil(Helianthus annuus),Coconut oil(Coconus nucifera),Lye & DM Water
Benefits
HENNA POWDER
It improves hair growth and reduces hair fall. It deeply conditions and nourishes your hair. Its antifungal properties treat dandruff and control scalp itchiness. It maintains balance and keeps your scalp clean. It thickens your hair and prevents split ends. It controls excess oil on the scalp. It makes your hair shiny, soft and manageable.
LEMON OIL
It cleanses the scalp and helps your hair stay healthy and shiny. It controls excess oil and prevents dandruff. Its antiseptic properties fight off scalp infections. It helps your hair grow faster and adds shine.
SUNFLOWER OIL
It is rich in vitamin E which stimulates hair growth. It thickens your hair and improves hair texture. It reduces hair fall and improves scalp health. It eliminates frizzy hair while providing softness and shine. It hydrates your hair by retaining moisture and prevents breakage.
COCONUT OIL
It strengthens and repairs your hair. It prevents hair loss and reduces hair damage. It moisturizes your and increases its volume.
How To Apply
Dampen your hair, Rub the bar to make lather. Gently massage it to the scalp and hair, Thoroughly rinse to remove lather.