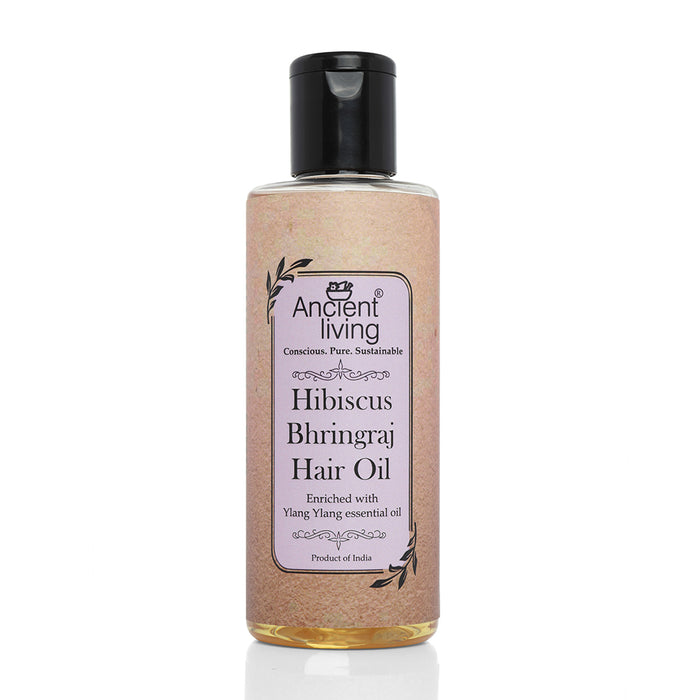 Ancient Living Hibiscus & Bhringraj Hair Oil - 200 ml
Original price
Rs. 525.00
-
Original price
Rs. 525.00
Ancient Living Hibiscus and Bhringraj Hair Oil is a hair nourisher that is enriched with hibiscus, bhringraj, ylangylang oil and coconut oil. This blend of ayurvedic herbs and nourishing oils moisturizes and conditions your tresses.  Hair oils are prepared using TailaPakaVidhi which retains the nutritional value of the herbs.
Ingredients
Hibiscus,Bhringraj, Ylang Ylang oil and coconut oil.
Benefits
Hibiscus It rejuvenates your scalp and promotes hair growth. It makes your hair stronger and manageable. It controls premature greying, reduces hair fall and prevents breakage and split ends. It conditions, moisturizes and nourishes your scalp. It fights dandruff and restores scalp health. It retains hairs natural oils. It makes your stresses smooth, silky and lustrous. Bhringraj It easily penetrates into scalp and treats dry hair. It promotes hair growth. It is rich in nutrients which help in reducing hair fall. It prevents premature greying of hair and maintains your hairs natural pigment. It gets rid of spilt ends, makes your hair stronger and imparts shine. It thickness your hair, too. Coconut oil (Cold pressed) It stimulates hair growth. It restores scalp health by fighting against scalp problems such as dandruff and lice. It deeply moisturizes and conditions dry hair. It makes your hair soft and adds luster and shine. It prevents hair breakage and split ends. It reduces hair loss. YlangYlang oil It is very effective in treating hair fall caused due to stress. It increases the production of sebum, which keeps the hair healthy and conditioned. It repels head lice. It delightful aroma reduces stress and drives away anxiety.
How To Apply
Take a small quantity of the oil and apply it on your scalp and hair evenly.