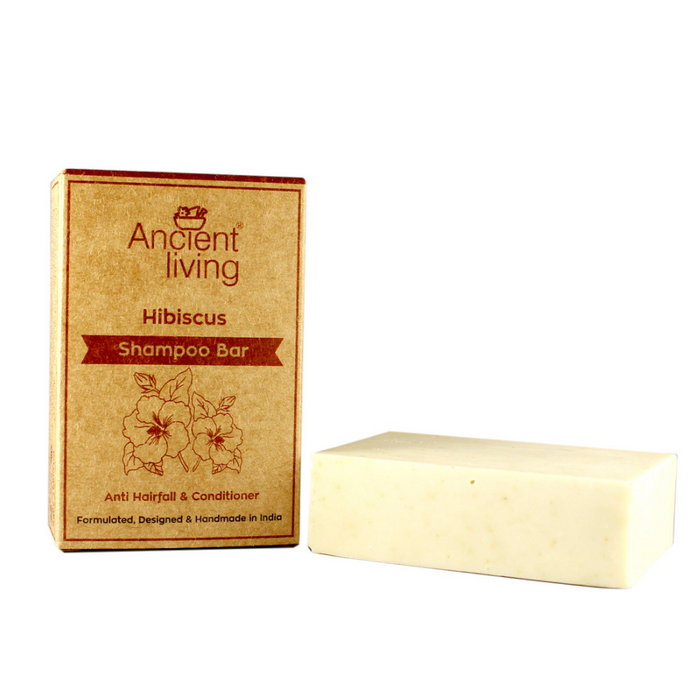 Ancient Living Hibiscus Shampoo Bar - 100 gm
Original price
Rs. 225.00
-
Original price
Rs. 225.00
Ancient Living Hibiscus Shampoo Bar gently cleanses out impurities, enhances hair growth and fights dryness and frizz with its moisturizing properties. It is a storehouse of vitamins such as E, C, and B which are known for their nourishing properties. Infused with hibiscus powder it strengthens your roots and gives you a lustrous shine.
Ingredients
Hibiscus flower powder(Hibiscus rosa-sinensis),Curry leaf powder(Murraya koenigii),Cedarwood oil(Cedrus deodara),Coconut oil(Coconus nucifera),Palm oil (Elaeis guineensis),Lye & DM Water
Benefits
HIBISCUS FLOWER POWDER
It is rich in vitamin C which boosts hair growth. It is rich in amino acids that nourish your hair, strengthen your roots, and keep your locks lustrous and healthy. It thickens your hair and adds volume. It also helps condition your hair, preventing dryness, frizz, and breakage. It helps you treat issues of the scalp, such as itchiness and dandruff. Hibiscus leaves help to prevent split ends by keeping your hair strong and hydrated.
CURRY LEAF POWDER
It is rich in protein which prevents thinning of hair. It treats dry hair. It prevents premature greying and promotes hair growth. It repairs your hair and controls frizz.
CEDARWOOD OIL
It stimulates hair growth and reduces hair loss. It treats dry or a flaky scalp. Its antiseptic properties eliminate scalp problems.
COCONUT OIL
It strengthens and repairs your hair. It prevents hair loss and reduces hair damage. It moisturizes your hair and increases its volume.
PALM OIL
It deeply conditions and promotes shine It fights off dandruff and repairs your hair It strengthens and thickens your hair
How To Apply
Dampen your hair, Rub the bar to make lather. Gently massage it to the scalp and hair, Thoroughly rinse to remove lather.