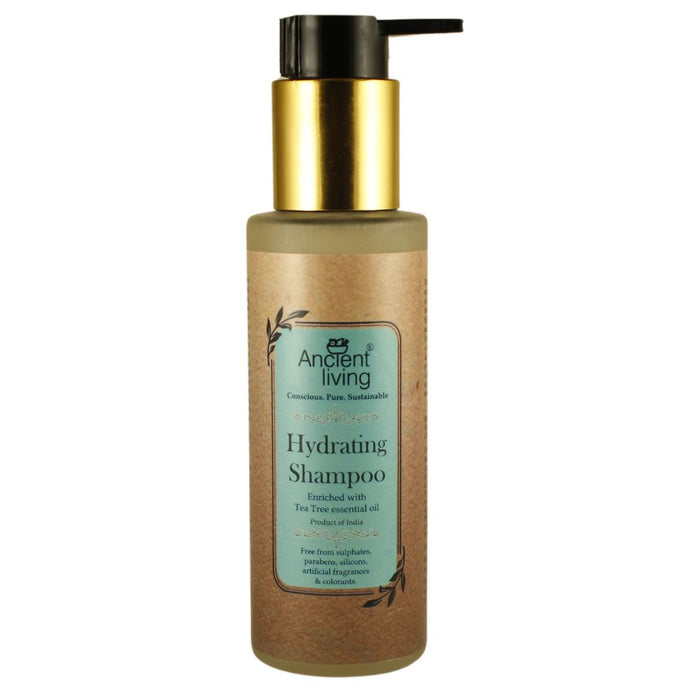 Ancient Living Hydrating Shampoo - 100 ml - Glass Bottle
Original price
Rs. 275.00
-
Original price
Rs. 275.00
Ancient Living Hydrating Shampoo is the perfect blend of pure essentials and ayurvedic herbs. This natural shampoo is enriched with pure lemon oil, tea tree oil and aloe vera along with other nutrient skin hair nourishing oils. These oils are known for their strong antibacterial properties which cleanse your scalp of impurities and nourish your dry locks.
Ingredients
DM water, Aloe Vera, Lemon oil, Tea Tree oil, Jojoba oil, Neem Oil, Caprylic capric glucoside, coco glucoside, coco amido propyl betaine, Xantham gum, Potassium Sorbate
Benefits
Lemon oil
It cleanses the scalp.
It maintains hair health and adds a healthy shine.
It fights dandruff due to its strong antibacterial properties.
It deeply conditions your hair.
It fights hair loss.
It relaxes your mind.
Its rich in vitamin C. This property reduces inflammation on your scalp.
Tea tree oil
It maintains overall scalp health due its antibacterial properties which keep infections at bay.
It makes your hair strong and smooth.
It treats dry scalp and head lice.
It fights dandruff and nourishes your hair.
Neem oil
Its rich in antioxidants and promotes hair growth.
Its contains several fatty acids which condition dry, under nourished hair.
Its anti-fungal properties fight dandruff and itching.
Its keeps your scalp healthy by getting rid of head lice.
Aloe vera
It strengthens your hair adds a healthy sheen to it.
It moisturizes and nourishes your dry strands.
It stimulates hair growth.
It keeps your hair hydrated.
Its antibacterial properties keep itchiness and irritation away.
Jojoba oil
It cleanses your scalp and reduces hair fall and breakage.
It naturally smoothes dry, frizzy hair and imparts a healthy shine to it.
It is rich in Vitamin E which conditions your hair.
It stimulates hair growth.
Caprylic capric glucoside
It is natural surfactant with foaming properties. It is extracted out of raw materials which are of vegetable origin.
Coco glucoside
Its works as foaming agent, conditioner and emulsifier. It midly cleanses your hair.
Coco amido propyl betaine
It is an organic compound which is derived from coconut oil. It nourishes your hair and acts as a foaming agent.
Xantham gum
It is an organic product which helps in maintaining your hair texture.
Potassium Sorbate
It is naturally occuring compound which is used as a preservative.
DM Water
How To Apply
Wet hair, apply desired quantity on scalp and hair, and work up the lather. Rinse thoroughly with water. Repeat if desired. Regular use keeps your hair healthy and shiny.