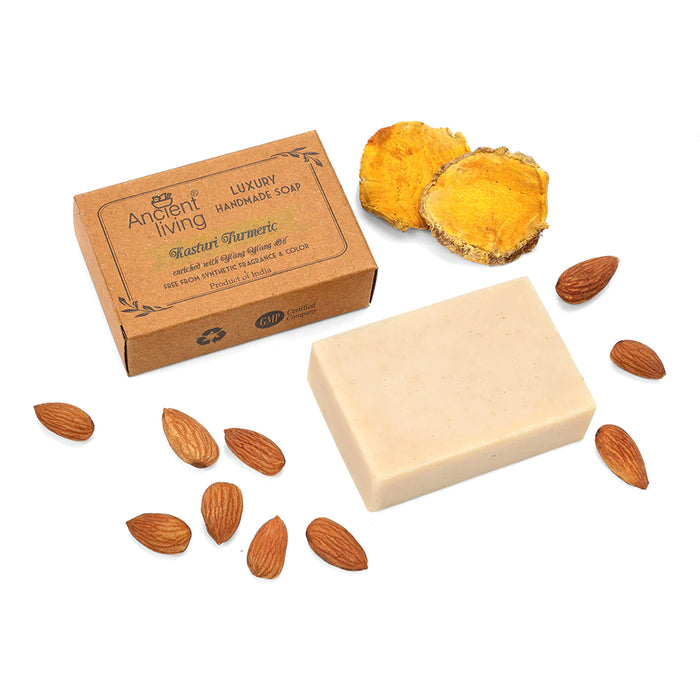 Ancient Living Kasturi Handmade soap - 100 gm
Original price
Rs. 195.00
-
Original price
Rs. 195.00
Ancient Living Kasturi Handmade Soap is enriched with wild Kasturi turmeric, pure ylang ylang essential along with other nutrient-rich skin nourishing oils. This Kasturi soap soothes your skin and imparts a luminous glow. This soap has a very fragrant and uplifting aroma which can completely dilute your stress.
This Kasturi manjal soap is full of antioxidants that can exfoliate by removing dead skin cells. It is rich in vitamin E which lubricates and nourishes your skin. It is induced with ylang ylang essential oil which is known for its anti-bacterial properties. It gives you beautiful, glowing skin by retaining moisture. Its antidepressant properties invoke a sense of joy and keep you away from negativity. Its sweet, floral scent will linger on your skin after you take your long rejuvenating bath. This soap forms a perfect blend to give you a smooth, refreshed and spot-free complexion
Ingredients
Kasthuri Turmeric, Almond oil, Ylang Ylang essential oil, Coconut oil, and Lye.
BENEFITS
Kasturi turmeric benefits
It is known for its healing properties. It improves complexion and inhibits the growth of unwanted facial hair. Its uplifting fragrance reduces stress and anxiety. It imparts a luminous glow. Its antibacterial properties give you acne and blemish-free skin. It is full of antioxidants that exfoliate your skin. It combats signs of aging such as wrinkles, fine lines, and under-eye bags. It removes sun tan and brightens your skin.
Ylang Ylang essential oil
It gives a beautiful, glowing complexion. It retains moisture and balances the oils the keep your skin young, smooth, refreshed, and hydrated. Its antibacterial properties fight off impurities. Its anti-aging properties premature aging, fine lines, and wrinkles. Its calming properties have sedative effects which help you get a good night's sleep. It alleviates fatigue. Its sweet, floral scent lingers on your skin and keeps you refreshed.
Almond oil

 
Our almond oil is cold-pressed which retains its nutritional value. It is enriched with vitamin E which can make your skin healthier while gently cleaning away the impurities and dead skin cells. It nourishes your skin and makes it smoother and softer. It is enriched with vitamins A and D which can help repair dry skin. It is very soothing and helps you sleep better. Coconut oil Our coconut oil is organic and certified. This age-old oil nourishes your skin and eliminates toxins. It acts as an exfoliator and removes dead skin cells. It combats dryness and moisturizes your skin.
KASTURI MANJAL SOAP BENEFITS
It is excellent for all skin types, especially for dry skin types. Nourishes and exfoliates your skin. Relieves stress and fatigue and uplifts your mood. Restores the suppleness of your skin. Removes impurities and reduces tan. It helps maintain a clear skin tone. Promotes a clear, glowing complexion. It refreshes your skin.


HOW TO APPLY
Wet body and face, apply generously, and rinse.