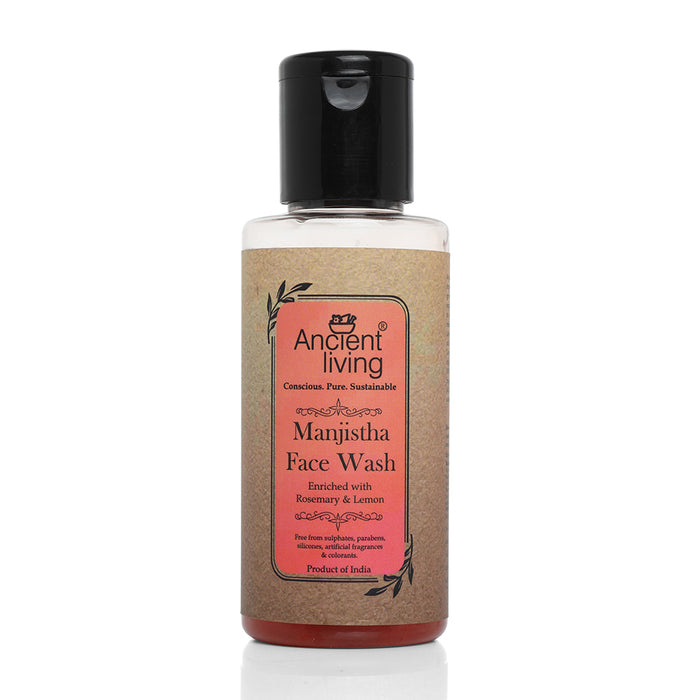 Ancient Living Manjistha Face Wash - 100 ml
Original price
Rs. 395.00
-
Original price
Rs. 395.00
Ancient Living Manjistha Face Wash is a mild, purifying face cleanser. This organic face wash is infused with Manjistha, rosemary oil, and vitamin E oil along with other skin-nourishing oils. It is rich in nutrients that eliminate toxins and give you the necessary hydration and nourishment. Our natural face wash is intended for everyday use all around the year.
Ingredients
DM water, Manjistha, Almond oil, Vitamin E oil, Rosemary oil, Lemon oil, Cocoglucoside, ORAMIX NS 10, Xanthum gum, Glycerin, Potassium sorbate
Benefits
Manjishta It improves your complexion and imparts glow as it is a blood purifier. Its anti-inflammatory properties alleviate swelling and inflammation. Its antibacterial properties fight off acne and other impurities. It has detoxifying properties. Almond oil Our almond oil is cold-pressed which retains its nutritional value. It is enriched with vitamin E which can make your skin healthier while gently cleaning away the impurities and dead skin cells. It nourishes your skin and makes it smoother and softer. It is enriched with vitamins A and D which can help repair dry skin. It is very soothing and helps you sleep better. Vitamin E oil It acts as a moisturizer and rejuvenates dehydrated skin. It reduces and reverses premature skin aging. It contains antioxidants that neutralize the effects of sunburn. It lightens dark spots and acts as a cleansing agent. Rosemary oil It improves skin tone and complexion. It gets rid of acne. It fades blemishes. It nourishes your skin. Its refreshing aroma reduces stress. Lemon oil It cleanses your skin from deep within. Its fresh, citrusy aroma can rejuvenate and activate your mind. It is rich in vitamin C and antioxidants which fight off acne-causing germs. Its astringent properties reduce sebum and shrink large pores by acting as a natural toner. It brightens your skin and reduces blemishes and acne scars. Its fresh aroma lingers on your skin and keeps you refreshed all day! Coco glucoside It works as a foaming agent, conditioner, and emulsifier. It mildly cleanses your hair. ORAMIX NS 10 It has cleansing and foaming properties. They are perfectly suited to the formulation of antiseptic products since they can be used to solubilize antimicrobial active agents without altering their properties. Glycerin It naturally restores moisture and keeps your skin soft and supple. Xanthan gum It is an organic product that helps in maintaining your hair texture. Potassium Sorbate It is a naturally occurring compound that is used as a preservative. DM Water
How to Apply
Take a small quantity of the face wash and apply it to your body evenly. After a rub, rinse off with water.