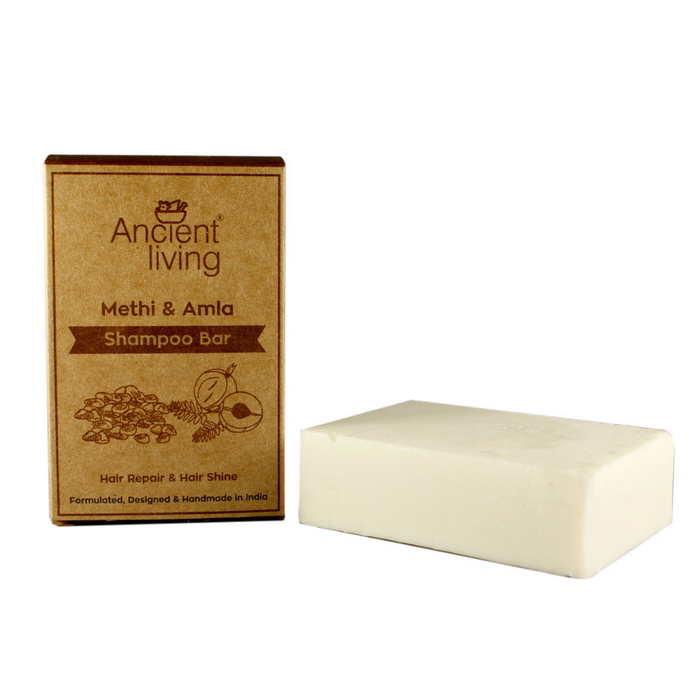 Ancient Living Methi And Amla Shampoo Bar - 100 gm
Original price
Rs. 245.00
-
Original price
Rs. 245.00
Ancient Living Methi and Amla Shampoo Bar It gently cleanses out all the impurities, fights scalp issues and deeply conditions your hair. Infused with methi powder it eliminates dandruff and stimulates hair growth. Amla powder treats a dry, flaky and itchy scalp. Rosemary essential oil eliminates dandruff and lifts off exhaustion with its refreshing smell.
Ingredients
Methi powder(Trigonella foenum-graecum),Amla powder(Emblica officinals),Rosemary Essential oil(Rosmarinus officinalis),Coconut oil(Coconus nucifera),Palm oil (Elaeis guineensis),Lye & DM Water
Benefits
METHI POWDER

 
It reduces hair fall and stimulates hair growth. It effectively removes excess oil on the scalp. It fights dandruff and treats dry and an itchy scalp. It deeply conditions your hair and gives you shiny luscious locks It prevents premature greying and repairs damaged hair. It gives you soft, frizz-free, detangled hair. If you have curly hair, methi helps in defining your curls, too!
AMLA POWDER
It cures hair loss. It contains essential fatty acids that strengthen your hair and add luster. The surplus of vitamin C in amla helps in preventing premature greying. It conditions your hair and treats dandruff. It treats a dry, flaky and an itchy scalp and nourishes it from within. It has a high iron content which stimulates hair growth.
ROSEMARY ESSENTIAL OIL
It gets rid of dandruff. It nourishes your hair and refreshes your senses.
COCONUT OIL
It strengthens and repairs your hair. It prevents hair loss and reduces hair damage. It moisturizes your and increases its volume.
PALM OIL
It deeply conditions and promotes shine It fights off dandruff and repairs your hair It strengthens and thickens your hair
How To Apply
Dampen your hair, Rub the bar to make lather. Gently massage it to the scalp and hair, Thoroughly rinse to remove lather.