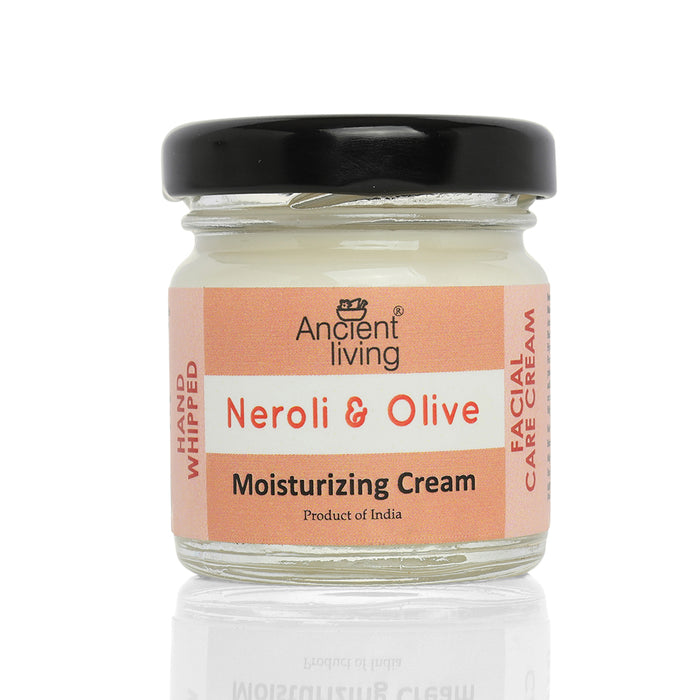 Ancient Living Neroli and Olive Moisturizing cream - 20 gm
Original price
Rs. 375.00
-
Original price
Rs. 375.00
Ancient Living Neroli & Olive Cream is enriched with Neroli essential oil and moisturizing olive oil. It is deeply nourishing and refreshing. It is a storehouse of vitamins A and E which are known for their moisturizing properties. It glides on your skin making it soft and supple. It gently exfoliates giving you healthy and spot-free skin.
Ingredients
Neroli Essential Oil, Almond Oil, Olive Oil, Apricot Kernel Oil, Beeswax, Shea Butter, Emulsifying wax, Potassium Sorbate
Benefits
Neroli essential oil Neroli oil's antibacterial properties fight acne. It gives you supple, healthy, and spot-free skin. It nourishes your skin. Its citrusy aroma keeps you refreshed. It helps you feel calm, composed, peaceful, and relaxed. Olive oil It moisturizes your skin. The light texture of olive oil makes it a perfect non-sticky moisturizer. It is rich in Vitamin E which protects your skin from harmful UV rays. It acts as a gentle exfoliator and gets rid of impurities. It improves skin health and imparts a healthy glow. Almond oil Our almond oil is cold-pressed which retains its nutritional value. It is enriched with vitamin E which can make your skin healthier while gently cleaning away the impurities and dead skin cells. It nourishes your skin and makes it smoother and softer. It is enriched with vitamins A and D which can help repair dry skin. It is very soothing and helps you sleep better. Apricot Kernel Oil It absorbs quickly and has a non-greasy texture which is perfect for oily skin. Its anti-inflammatory properties help soothe the skin and reduce redness. It firms and tones the skin. It fades wrinkles and dark circles. It protects the skin from sun damage. Beeswax It' antibacterial properties protect the skin from infections. It helps to seal moisture. It is rich in vitamin A which protects the skin against environmental pollutants. It soothes and softens. Shea butter It is naturally enriched with vitamins A, E & F. It soothes and moisturizes the skin. It helps retain the skin's natural oils. Emulsifying wax - It is a natural ingredient that is used for blending oils with water. Potassium Sorbate - It is a mild preservative.
How To Apply
Apply liberally to your body every night before bed and as needed throughout the day.