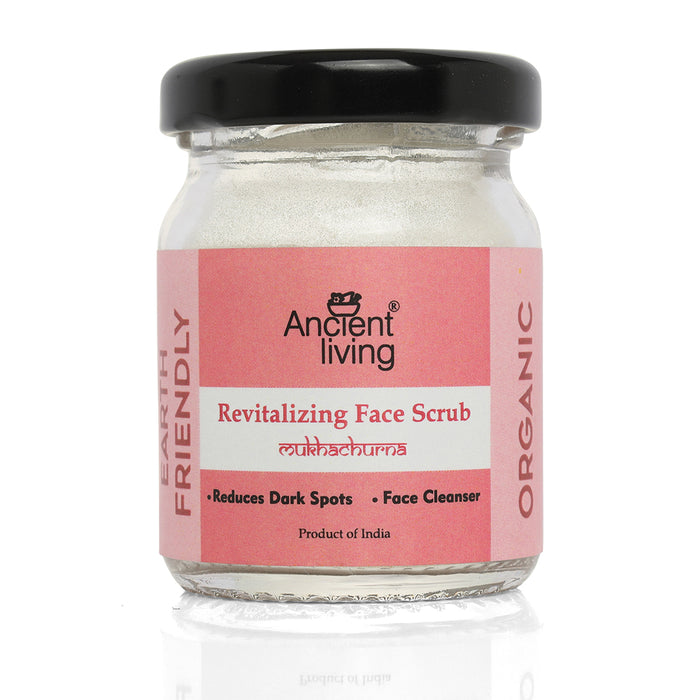 Ancient Living Organic Revitalizing Face Scrub - 20 gm
Original price
Rs. 195.00
-
Original price
Rs. 195.00
Ancient Living Revitalizing face scrub is an extraordinary blend of fruits powders and exotic herbs which provide valuable nutrients to the skin. It is rich in vitamin A, C and E which clears your complexion and moisturizes it. This fruit based scrub remineralizes, hydrates and gently exfoliates, revealing brighter, more radiant skin.
Ingredients
Carrot root, Papaya fruit, Orange fruit, Shati, Vetiver, Almonds, Shatavari, Navara rice
Benefits
Papaya It is rich in Vitamin C and is full of antioxidants that clear pigmentation and blemishes. Papaya benefits for skin fight signs of ageing such as fine lines, under-eye circles and wrinkles. It removes tan and nourishes your skin. It moisturizes and hydrates your skin. It exfoliates your skin and keeps you away from skin impurities. It controls acne. Carrot root It is rich in vitamin C and antioxidants which impart a beautiful glow. It gets rid of blemishes and acne marks. It treats pigmentation and uneven skin tone. It fights skin ageing such as wrinkles and dark spots. It is rich in vitamin A and provides protection from sun rays acting as a natural sunscreen. Orange It fights premature ageing. It brightens skin complexion. It is rich in vitamin C and antioxidants which impart a beautiful glow. It treats acne, dark spots and blemishes. Shati It fights skin impurities. Vetiver It has a cooling effect on the skin. It reduces dark spots and fights skin impurities. Almonds They are in vitamin E which lubricates the skin. It nourishes the skin and keeps it soft and supple. It fights acne. It fights signs of ageing. Shatavari It is known for its anti-ageing properties. It nourishes and cleanses the skin. Navara rice It acts as a gentle exfoliator. It removes the dryness of the skin. It cleanses and moisturizes the skin. It removes tan and nourishes. It restores skin complexion.
How to apply
Take the required quantity of scrub in a small container, mix with a sufficient quantity of Ancient Living Rosewater or water. Wet the face and gently scrub in the circular motion avoiding the eye and mouth area. Wash off with cool water and pat dry.