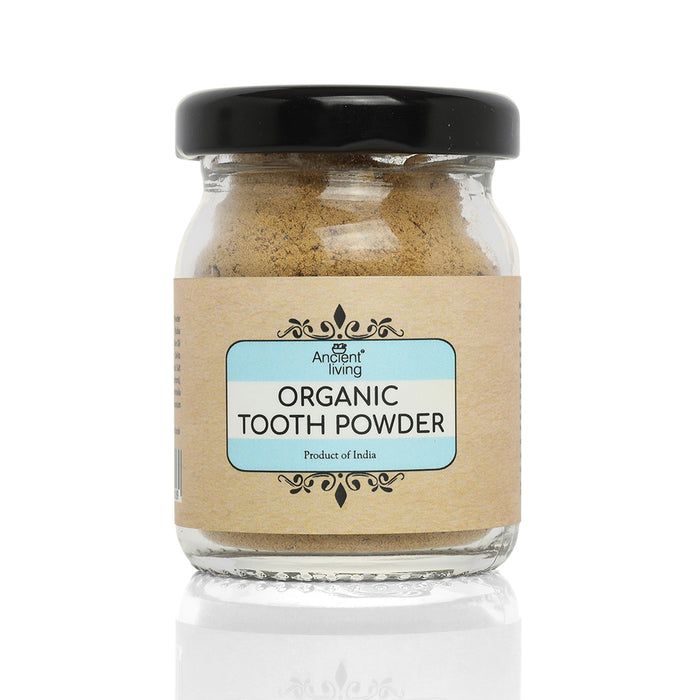 Ancient Living Organic Tooth Powder Jar - 25 gm
Original price
Rs. 125.00
-
Original price
Rs. 125.00
Ancient Living Organic tooth powder which is derived from the heart of Ayurveda is a boon to your oral health care. The carefully selected ingredients deliver a fresh breath and improve your gum health with every use.t has natural teeth whitening products such as clove, long pepper, babool bark, and cinnamon which are historically known to freshen the breath.
Ingredients
Tooth Powder: Long Pepper (Piper Longum), Clove Powder & Clove Oil (Syzgium Aromatium), Manjistha (Rubia Cordifolia), Ajwain (Trachispermum Ammi), Clary Sage Oil (Salvia Sclarea), Babool Bark Powder (Acacia Nilotica), Pacha Karpooram (Cinnamomum Camphora), Cinnamon Powder (Cinnamomum Verum), Triphala Amalaki (Emblica Officinalis), Bibhitaki (Terminalia Balerica), Haritaki (Terminalia Chebula), Tomar (Zanthoxylum Armatum), Rock Salt & Cinnamon Powder (Cinnamomum Verum)
How To Apply
Wet your mouth, take the desired quantity, and gently massage your teeth with the powder. A slight tingling sensation will be noticed due to the presence of clove and pepper essential oils. Rinse with water. Repeat if necessary. This powder is non-foaming. Use twice a day or as necessary for optimum results. With regular use, long-standing problems of bad breath have been reported to disappear within three days. It is made with freshly ground ingredients from our farms and is free of any fillers, foaming agents, or preservatives.