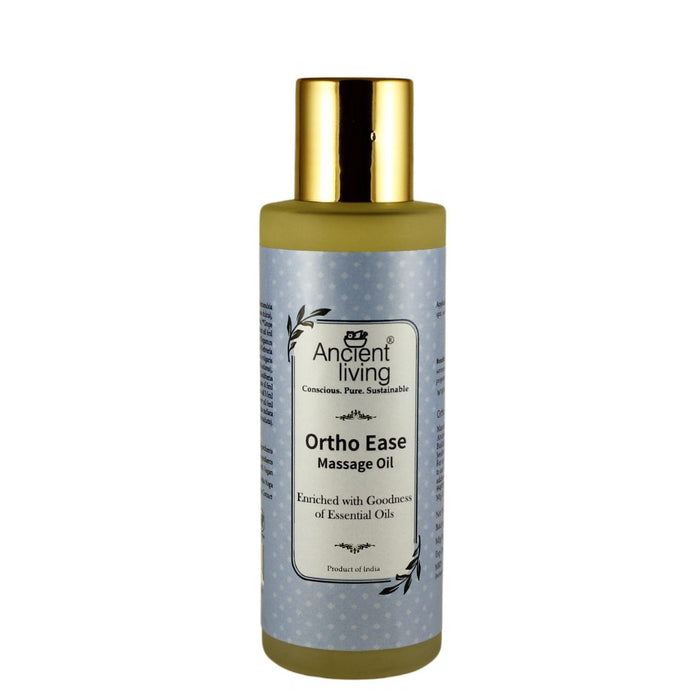 Ancient Living Ortho Ease Massage Oil - Glass Bottle - 100 ml
Original price
Rs. 1,025.00
-
Original price
Rs. 1,025.00
Rs. 1,025.00
-
Rs. 1,025.00
Current price
Rs. 1,025.00
Ancient Living Organic Ortho Ease Massage oil is a natural relaxer which full of anti-spasmodic, anti-inflammatory, and antioxidant properties which prevent muscle stiffness, relieve sore muscles, and ease cramps. It is the perfect solution to keep pain at bay as it relieves mild to moderate aches due to its action on your muscles and nerves.
Ingredients
Jojoba, Almond, Wheat germ, Grape seed, Peppermint, Marjoram, Vetiver, Thyme, Clary sage, Winter green, Lemon grass, Eucalyptus, Juniper Berry.
Benefits
Our ingredients are handpicked and hold unique properties. Jojoba oil- It is cold-pressed and helps in the relaxation of your muscles and joints. Almond oil - Our cold-pressed almond oil keeps all its nutritional values intact and helps in moisturizing the skin and repairing tissues. Eucalyptus oil - It contains anti-inflammatory and antispasmodic elements that are ideal for treating muscular spasms, cramps, and pains. The analgesic qualities of this oil can calm stress and tension on muscles and nerves. Wintergreen oil - It gets rid of joint and muscle pain due to its analgesic or pain-relieving properties. Peppermint oil - It has a significant effect in relieving muscle pains and spasms because of the potential anti-inflammatory and antispasmodic elements. Clary sage oil - It relaxes the muscles, especially muscle spasms and cramps. It avoids convulsion, too. Thyme oil - Thyme helps treat joint and muscle pain with its warming action on the body. It also lowers blood pressure while also increasing blood circulation. Juniper berry oil - It reduces stiffness in your muscles. It helps in easing pain due to its carminative properties. Marjoram oil - Its excellent warming, soothing and antispasmodic properties help to ease joint pains and muscle spasms. Lemongrass oil - It relieves pain and has a soothing, calming effect. Vetiver - It has a cooling and relaxing effect which promotes sleep. Wheat germ oil - It repairs tissues and promotes proper coordination of bones. Grapeseed oil - It has a high content of calcium which is great for bones.
How To Apply
Massage with the oil gently on affected area