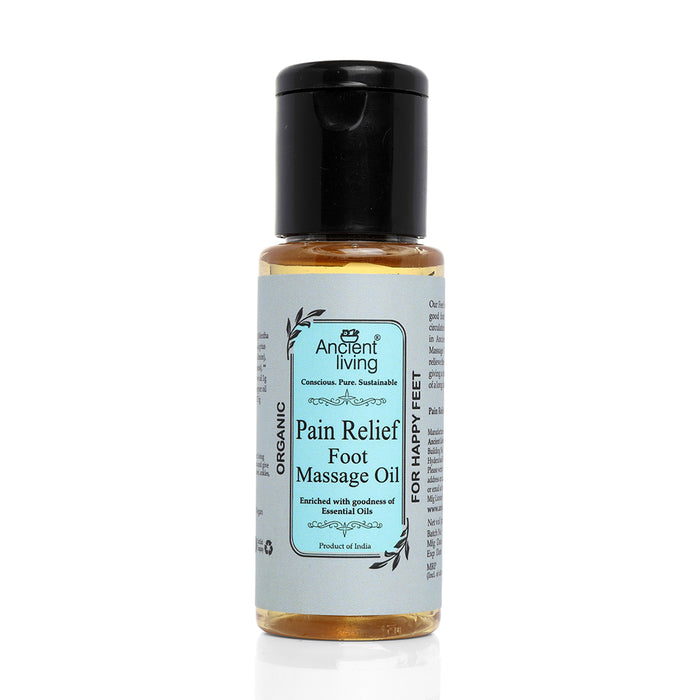 Ancient Living Pain relief foot massage Oil - 50 ml
Original price
Rs. 400.00
-
Original price
Rs. 400.00
Ancient Living pain relief foot massage oil is ideal for a foot massage. It is hand-blended using 9 essential oils to energize the body system, by relieving foot aches, pains, and stress.According to Ayurveda, the feet contain reflex points to all organs of the body. Therefore a foot massage is reviving and therapeutic.
Ingredients
Wintergreen Oil, Peppermint Oil, Eucalyptus Oil, Lemon Oil, Jojoba Oil, Olive Oil, Sesame Oil, Clove Oil, Black Pepper Oil
Benefits
Wintergreen Oil: Reduces muscle soreness, pains, and aches. Peppermint Oil: Minty, cool and deodorizing aroma. Eucalyptus Oil: Smoothens sore and tired muscles. Lemon Oil: Therapies Sweaty feet and swollen ankles. Jojoba Oil: Natural treatment for cracked heels. Olive Oil:Relieves pain and inflammation Sesame Oil: Reduces stress Clove Oil:Natural anesthetic properties Black Pepper Oil: It has analgesic, anti-infectious, antiseptic properties
How To Apply
Take an appropriate amount of Ancient Living Pain Relief Foot Massage Oil onto palms and give a deeper massage covering tops of the feet, ankles, soles, toes.