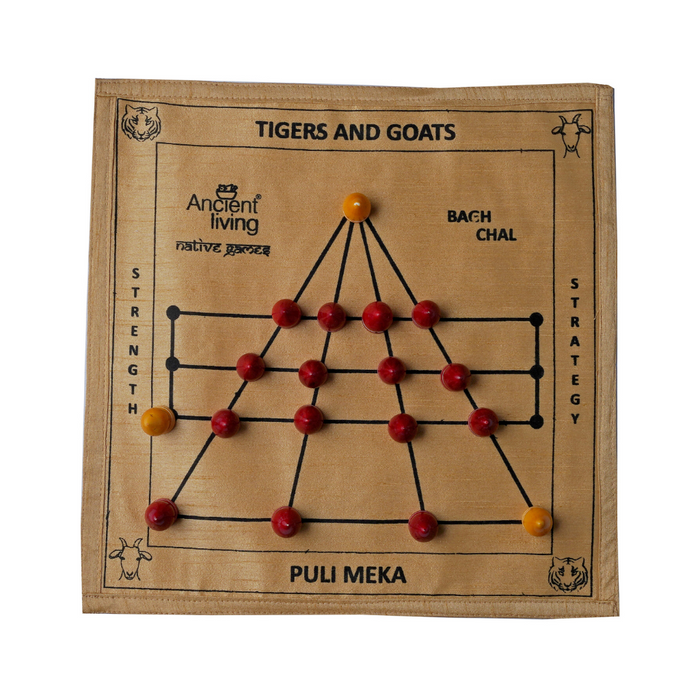 Ancient Living Puli Meka Game in Cheriyal Hand-painting
Original price
Rs. 2,895.00
-
Original price
Rs. 2,895.00
Rs. 2,895.00
-
Rs. 2,895.00
Current price
Rs. 2,895.00
PuliMeka / BaghChaal / Goats and Tigers / Aadupuliaattam board game (Crafted in raw silk)
Extensively played in the Southern part of the Indian Continent, Puli Meka has got diverse names from "Aadu pull aatam" In Tamil, Aadu Huliaatain Kannada, and Bagh Chal in Nepali. Evidenced to be played from the times of kings and ministers, this game capsules the heritage and culture of the country. Ancient Living has hand-stitched this history with Raw silk and intentions to promote folkloric games. This eco-friendly trait makes it a guilty-less joy!
Crafted in Raw silk

The exotic and quintessential fabric of raw silk darts its origin way back to the Indus Valley Civilization. Its smooth and rich silk is non-slippery and strongest of its kind. Reputed to be the finest and delicate form of fabric, it was the appealing choice of Ancient Living in the making of its most-loved games!
Hand-made Coins: The coins are made by the best of artisans using earth-friendly wood materials and natural color paint.
Fun in the Box: Packed in an Earth-Friendly Box for safekeeping and zero threat of damage.
Puli Meka (Corner the Tiger)
Also called, Goats and Lions, this game is a fun but intense game that takes you and your opponent on a hunt.
It can create the atmosphere and thrill of a real hunt by sitting just across a table in your living room. The game stirs a power struggle between the hunter and the hunted.
Instructions
Three tigers assigned to one player and a herd of fifteen goats to the other start the battle royal! The show of strength is based on whether the herd of goats manages to vanquish the tigers, or the tiger once again proves he is the king of the jungle.
Dimensions: 36×36 cm