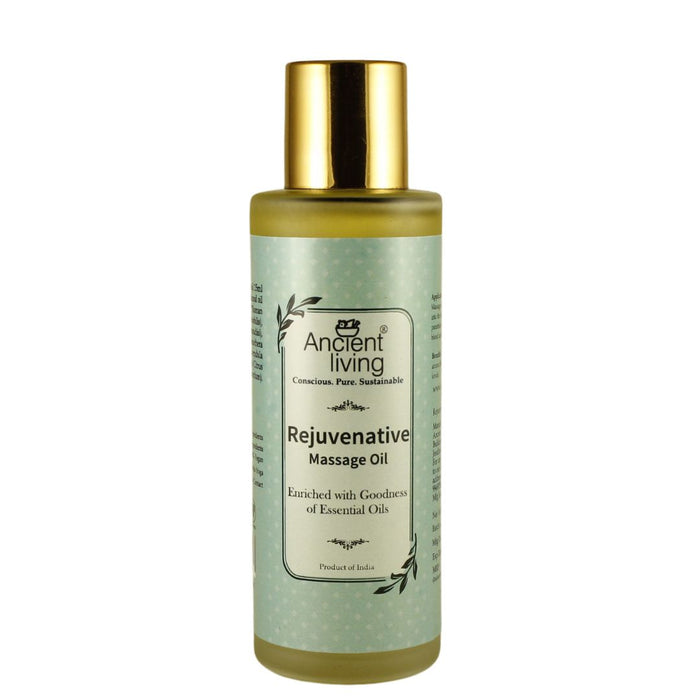 Ancient Living Rejuvenative Massage Oil - Glass Bottle - 100 ml
Original price
Rs. 735.00
-
Original price
Rs. 735.00
Organic Rejuvenative Massage Oil is specifically designed to restore the beauty of your skin. It is a blend of organic oils such as jojoba oil, roman chamomile oil, lavender oil along with other mineral-rich oils. They are known for their soothing and skin-nourishing properties. Its astringent and rejuvenating elements have magical effects on your skin. It improves skin tone, restores your complexion, youthfulness and imparts a glow.
Ingredients
Jojoba, Almond, Neroli, Roman Chamomile, Lavender and Evening promise.
Benefits
Jojoba oil - It is rich in vitamin E. It moisturizes your skin and fights signs of aging. Almond oil - It is rich in Vitamin E, A and D which improves skin tone and repairs damaged tissues. Neroli oil - It nourishes your skin and promotes supple, healthy, spot-free skin. Lavender oil - It is incredibly relaxing. It fights signs of aging and imparts a beautiful glow from within. Roman chamomile oil - It calms the mind, fights skin impurities and boosts skin health. Evening promise oil - It enhances skin complexion and lightens dark spots.
How To Apply
Massage with the oil gently on your skin