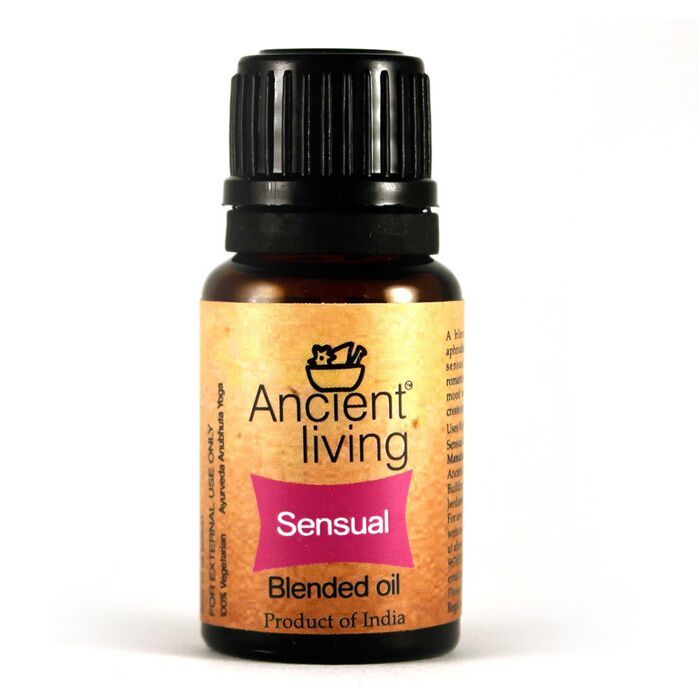 Ancient Living Sensual Blended Oil - 10 ml
Original price
Rs. 495.00
-
Original price
Rs. 495.00
Ancient Living's organic Sensual Blended Oil will elevate your mood and help you get in touch with your suppressed sensual side. It is the perfect blend of the most aphrodisiac essential oils which will fill your life and your house with their sweet, romantic aroma.
Ingredients
Rose Oil, Jasmine Oil, Ylang Ylang Oil, Geranium Oil, Lavender Oil, Patchouli Oil, Black Pepper Oil, Neroli Oil, Nutmeg Oil
Benefits
JASMINE OIL: Jasmine oil fragrance has a stimulating effect on the mind, and significantly increase mental alertness which helps to increase the romantic mood. It is valuable in encouraging passion and romantic sentiment and is used extensively in supporting healing from sexual difficulties. YLANG YLANG OIL: Ylang-ylang oil has a euphoric and sedative effect on the nervous system and helps with anxiety, tension, shock, fear. It has been known to be an aphrodisiac and relaxes the body from stress and anxiety associated with sexual intimacy. GERANIUM OIL: Geranium oils exotic floral-spicy aroma works as a powerful aphrodisiac, enhancing sensuality and intimacy between a couple. Its sweet, friendly scent can dilute feelings of aggression, anger, and irrationality while promoting harmony and equilibrium in relationships. LAVENDER OIL Lavender oils sweet aroma helps you set the perfect romantic ambience. It also helps people relax as it is a natural sedative. PATCHOULI OIL Patchouli's exotic floral-spicy aroma is relaxing, grounding, centring, uplifting and sensual. It is recommended for reducing stress and alleviating anxiety and depression. BLACK PEPPER OIL Black Pepper not only warms the body but also re-energizes your system. It emotionally stimulates the mind. NEROLI OIL Neroli Essential Oil drives away sadness, invokes a feeling of joy and happiness while uplifting your overall mood. It has also been known to create romantic and sensual feelings. NUTMEG OIL Nutmeg oil stimulates the brain and therefore removes mental exhaustion and stress. It helps relax the nervous activity.
How To Apply
Use in a Candle vaporizer or electric diffuser