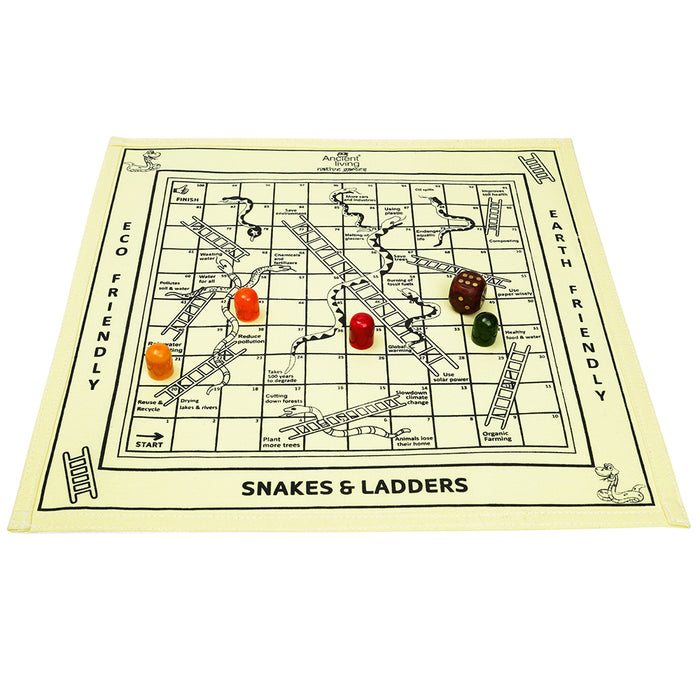 Ancient Living Snake and ladder Native Game - 1 Pcs
Original price
Rs. 650.00
-
Original price
Rs. 650.00
Imagine one hundred squares which are full of tricks & traps. Also known as Saanp Seedhi in the region, Snakes & Ladders is an ancient Indian board game that is nowadays regarded as a classic worldwide. This is a simple race contest based on sheer luck and is equally fascinating for all, from children to the older generation. Rooted in morality lessons featuring the ups & downs in life, just roll the dice and try your luck. While the snakes take you down and ladders escalate you on top, the winner is the person who reaches the 100th square first. Snakes & Ladders behold plenty of fun for the entire family.
Snakes & Ladders Board Game
Ancient Living Snakes & Ladders Board Game is handcrafted and beholds a different take altogether, which is in sync with the aspects affecting the environment. While ladders come with positive messages like organic farming, rainwater harvesting, use solar power, reuse & recycling, and using paper wisely, factors that degrade the environment like cutting down forests, melting of glaciers, using plastics and oil spills portray the negative impacts are associated with snakes that bring you down and make you lose position. After all, education & game can go hand-in-hand!
Dimensions: 36×36 cm