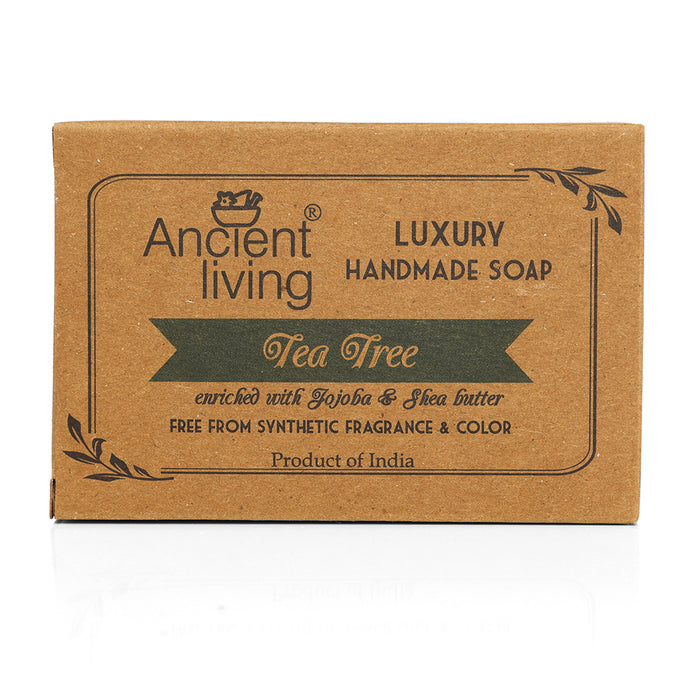 Ancient Living Tea tree Luxury Handmade Soap - 100 gm
Original price
Rs. 225.00
-
Original price
Rs. 225.00
Ancient Living Tea Tree Handmade Soap is enriched with pure tea tree oil and jojoba oil along with other nutrient-rich skin-nourishing oils. It's full of vitamins A and E which hydrate and nourish your skin. Tea tree for sensitive skin keeps it soft and gently protects it against harsh pollutants.
Ingredients
Tea Tree oil, Jojoba oil, Shea butter, Olive oil, Wheat germ oil, Coconut oil, Palm oil, Lye & DM Water, Ayurvedic proprietary medicine.
Benefits
Tea Tree Oil Its antibacterial properties fight against acne and other skin diseases. It removes sun tan and brightens your complexion. It keeps bad odors away with its strong cleansing properties. Its refreshing aroma acts as a stress buster. Olive oil It moisturizes your skin. The light texture of olive oil makes it a perfect non-sticky moisturizer. It is rich in Vitamin E which protects your skin from harmful UV rays. It acts as a gentle exfoliator and gets rid of impurities. It improves skin health and imparts a healthy glow. Jojoba oil It is enriched with vitamin E and B which hydrates and moisturizes your skin. It is quickly and easily absorbed into the skin which will make your skin glow. It protects the skin against pollution and restores skin health. Coconut oil Our coconut oil is organic and certified. This age-old oil nourishes your skin and eliminates toxins. It acts as an exfoliator and removes dead skin cells. It combats dryness and moisturizes your skin. Palm oil It is loaded with antioxidants and vitamin A which protects your skin from harmful UV rays while keeping the skin soft and non-greasy. Wheat germ oil: Wheat germ oil is a rich source of vitamin E which helps to reduce skin damage, supports healthy skin and an even skin tone. Shea butter It is naturally enriched with vitamins A, E & F. It soothes and moisturizes your skin. It helps retain the skins natural oils. Lye & DM Water: Purified water. Ayurvedic proprietary medicine. TEA TREE SOAP BENEFITS: Its excellent for all skin types, especially for acne-prone skin. It is suitable for sportsmen and athletes who are engaged in an intense activity as it a strong antibacterial cleanser. Fights against potential skin diseases and heal skin infections. Nourishes and exfoliates your skin. Relieves stress and fatigue. Restores the suppleness of your skin. Removes impurities and reduces tan. It helps maintain a clear skin tone. Promotes a clear, glowing complexion.
How To Apply
Wet body and face,apply generously and rinse.